Live performance duel featuring a grid of squares that come from the monome and Ableton Live; as well as the Akai MPC and effects pedals.
FREE MUSIC FROM OCELOT available for a limited time here >>>> soundcloud.com/o-c-e-l-o-t
Here is a brief demo of the Futureretro 777 monophonic analog synthesizer/sequencer and the Akai MPC-60 sampler/sequencer. The 777 is running off of it's internal sequencer and is sync'd via MIDI clock to the MPC-60. The MPC-60 has a sampled set of Oberheim DMX sounds. The delay that the 777 and drums are sent to is the Ibanez DMD2000. All are mixed on my StudioMaster mixer and sent straight to my soundcard (Native Instruments Kore 1).
http://youtu.be/GxrBHGFFOjg
A short test setup, controlling the iOS PPG with the M569 sequencer via the M552 CV2MIDI module.
Download or stream the audio at SoundCloud: http://snd.sc/RuFf7x
Live looping with Ableton Live, a DSI MoPho, an Akai MPD26 and APC20, a DJ TechTools MIDI Fighter 3D, and three iPads running PPG Wavegenerator, Lemur, and Animoog. An iConnectMIDI is sending and receiving MIDI notes from Animoog to MIDI clipslots in Ableton Live. Bass from the PPG app is being looped with Ableton's looper plug-in, controlled by Lemur. All loops are recorded live, nothing was pre-recorded.
The internal waveforms of the Akai S1000 and the first four disks of the Akai SL library. Reverb from the Lexicon 200.
Description of the Akai S1000:
An oldie but a goodie. Akai's great sampler of the late eighties! It actually still stacks up pretty well even today! A 16-bit, 22kHz to 44.1kHz sampler with 2MB to 32MB of RAM. Editing and programming the S1000 is a very good precursor to the advanced S3000 series. There are lots of advanced edit capabilities for looping, truncating, sample merging, time comp/exp, tuning and even analog-like parameters to control its filters and envelopes. Individual outputs for each of the 16 voices, stereo mix out, stereo input, MIDI, and trigger inputs round out this machine as a professional vintage-status sampler that still proves to be very useful even today!
Jordan Passmore demo of the Roland TR-808, Akai MPC-60 and Roland SC-880. SC-880 is playing the rave patches, MPC-60 is loaded full of TR-909 samples and is also sequencing 909/synth, TR-808 is doing 808. All held together by a Garfield Nano Doc Sync/Clock adapter. All sounds are mixed live on an old Studiomaster mixing board; from there they pass through an Electra EQ, then finally into my Native Instruments Kore Audio Interface. The SCC-80 has an analog delay attached to it, which when I'm out of the shot, I'm usually messing with. I also have a Behringer Virtualizer Pro Reverb on an effects send (a bit of the 909 and SC-880 are send to this).
The MPC-60 loaded with 909 samples is pretty hard to beat for completely cutting through a mix. I personally love the 808 so of course I threw that on top as well. The SC-880 is very interesting and totally useful (multitimbral and full of many very usable effects). I found these patches on it and decided to do a short demo from there.
A video discussing & demonstrating some design aspects of the Akai AX-60 analog synthesizer, in particular the filter resonance.
The AX-60 has been described as capable of some very 'industrial' timbres and one reason for this is the very strong filter resonance of the cem3394 voice chip. The design choice by Akai to use a full 5V CV for the resonance brought this out. Additionally, they used a linear taper slider for resonance, and a linear 5V response to the CV (they could have used a log taper, like I did here, or they could have processed the panel voltage and did a voltage taper conversion in firmware – cheaper! – to limit the resonance CV to the range in the cem3394 data sheet, but they didn't).
These design choices meant many users probably ended up exploring a more 'brash' part of the AX-60's sound palette than if Akai been more like Sequential Circuits in their limited internal programming of the cem3394.
26 Video Live Projection Mapping Mashup
Using some of our favourite London musicians, films and TV shows.
"Today we released our new London themed projection mapping mashup," says Evans-Roberts. "We used Ableton Live with Max for Live, and Akai APC40, Resolume Arena, MadMapper, two projectors and three laptops for the performance."
You can download the mashup via Ithaca Audio on Facebook.
Check it out and let us know what you think of it!
Media Sources:
Eurythmics – Winston's diary (1984)
Night and the City
Mary Poppins – Stay awake
Queen – A kind of magic
Amy Winehouse – You know I'm no good
The Who – Baba O'Riley
Blur – Song 2
Amy Winehouse – Stronger than me
Jamiroquai – Deeper underground
Dizzee Rascal – Fix up, look sharp
Quincy Jones – It's caper time (self preservations society)
Adele – Rumor has it
John Murphy – 28 days later
Led Zepplin – Whole lotta love
Faithless – Insomnia
Florence & the Machine – You got the love
The Clash – London calling
Eastenders
Queen – We are the champions
Dizzee Rascal – Bonkers
Klint – Diamond (Snatch)
The Kinks – You really got me
Are you being served
Only fools and horses
Queen – Another one bites the dust
The Rolling Stones – Gimme Shelter
The handsome big brother of the EIE – this adds 96kHz 24-bit audio to the USB audio interface. It also has a built in USB hub and MIDI too
Akai has released SynthStation 3.0, a major update to their virtual studio for iOS.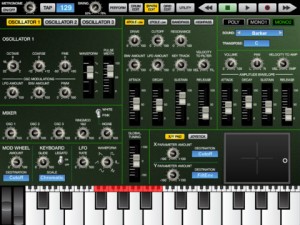 Here's what Akai has to say about the update:
SynthStation v3.0 is all about streamlined workflow. You'll find a totally refreshed user interface that's easy to navigate and instinctual to use. Optimized for the larger screen of your iPad, the new UI spreads out the controls, dramatically reduces the need to shuffle through menus, and lays out all the synth parameters on a single screen. The leading music production app just got more powerful.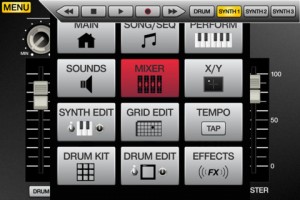 Features:
Three virtual-analog synthesizers, each with three oscillators
More than 50 drum kits, plus a built-in sequencer
Create melodic and accompaniment parts using arpeggiator with preset patterns
Core MIDI-compatible: works with any Core MIDI device as a synth module on your iOS device
Real-time recording
Unlimited creativity with effects and filters
Compatible with iPad, iPhone, and iPod touch
Akai SynthStation 3.0 is currently $1.99 in the App Store.
Background information:
Here is a demo of the Akai MPC-60 Sampler/Sequencer, MFB Synth II Analog Synth, and EMW WCS-1 Analog Synth. The drums/sequencing were done by my MPC-60; the drums were sampled on the MPC using my Roland TR-808 as a sound source. The bassline is the EMW WCS-1 and the MFB Synth II is the sequenced melody. Both are sequenced by the MPC-60. The delay/echo effect is a really old Washburn analog delay. The mixer is an Alto AMX-220.
There is lots of cross-talk/hiss/noise in this recording. I personally like this, and I fully understand how I would go about eliminating this. But I would never want to.