http://youtu.be/8LVm_F_mRI
A collaboration between Australian producers Mr Bill and Will Marshall,  this is a stems-based template for the Akai APC40, designed to help producers get started performing their own material live on stage.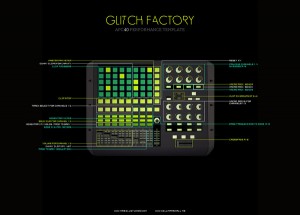 "We've built some awesome performance FX, as well as writing a custom script for the APC40 to streamline your live sets. Included in the template are four tracks worth of stems, to help get you started."
More info here – http://willmarshall.me/products/glitch-factory
Here's the pitch form Akai:
SynthStation49 is the most advanced, intuitive music controller designed specifically for use with the iPad and is the first true iPad performance tool for musicians. Working seamlessly with Akai Professional's heralded SynthStation software, SynthStation49 provides unparalleled music creation capabilities, including direct in-app MIDI recording from its velocity-sensitive keyboard, nine MPC-style drum pads and array of transport controls. In addition to its integration with the SynthStation app, SynthStation49 is also completely iOS CoreMIDI compatible, making it instantly compatible with dozens of music apps already in the App Store and hundreds more on the way.
http://www.akaipro.com/synthstation49
Additional information:
Dock, power and position the iPad perfectly using the adjustable-angled cradle, or establish commanding control over your favorite computer software using SynthStation49's USB/MIDI port. Professional ¼" outputs and extreme portability ensure you'll be able to take your sequences straight to the stage at a moments notice.
SynthStation49 is the only full-featured, professional keyboard controller allowing direct MIDI performance recording onto an iPad. Bridging Akai Professional's popular MPK controllers with the previously released SynthStation25, SynthStation49 provides immense software control with forty-nine, full-size velocity-sensitive keys, nine backlit MPC-style drum pads and full transport buttons. An adjustable-angled dock for iPad allows the user to easily slide their tablet into the SynthStation49's cradle and position the screen to their preference.
SynthStation49's keyboard, pitch/modulation wheels and sustain pedal input provide great feel and the essential controls for musicians and producers to compose, record and perform. The nine drum pads of SynthStation49 give users immediate, intuitive beat-creation capabilities over the 50 classic and modern kits available within the SynthStation software. Program, Sequence, Song select and Transport buttons also provide quick navigation to the SynthStation App's most used components for a seamless, efficient workflow.
SynthStation49 also contains a stereo pair of professional ¼" TRS outputs with volume knob for easy connecting to other pro audio equipment on stage or in the studio. A headphone output also lets users practice and compose in private. The SynthStation49's USB port can be connected directly to a Mac or PC computer to receive power in addition to transmitting MIDI to and from music software – a great way to turn the SynthStation App or other CoreMIDI compatible App into a sound module. You can even use SynthStation49 as a traditional USB MIDI controller with your computer – no iPad required!
AkaiConnect SDK allows third-party developers to take advantage of all the professional controls and capabilities of Akai Pro's SynthStation49 keyboard controller and incorporate support for those controls within their iPad applications. Software developers interested in creating programs compatible with SynthStation49 can submit an application now at SynthStationApp.com.
Here are three brand new videos featuring the new controller from Akai, more info below:
MAX49 from Akai Professional places revolutionary MIDI and CV control at your fingertips. With an intuitive layout and included AkaiConnect automatic-mapping software, MAX49 offers an instant, fully immersive experience with your favorite music software and virtually all VST plugins. From its 49 semi-weighted keys and 12 real MPC pads, to its groundbreaking LED touch faders and vintage CV & Gate outputs, MAX49 combines cutting-edge Akai Pro technology with classic capability to give you an unprecedented music-making experience.
CUTTING-EDGE
MAX49 is one of the most unique controllers ever engineered. Right away you'll notice one of its most distinguishing features: four banks of eight backlit LED touch faders, allowing you to assign up to 32 control parameters. You can use MAX49's LED touch faders just like analog faders by simply dragging your finger along their touch strips, or you can perform instant leaps in any MIDI value from zero to maxed out and everything in between—an unprecedented, unmatched controller capability.
CLASSIC
MAX49 is also equipped with four banks of 12 backlit MPC pads, giving you a total of 48 assignable pads, allowing you to integrate legendary Akai Pro production capability into live performances and recording sessions alike. These backlit, velocity sensitive pads come with classic MPC Swing, Note Repeat, Full Level and navigation controls to give you all the tools you need to create music at your highest level.
MAX49 comes ready to command any controller hardware or software from any era: USB MIDI, traditional 5-pin DIN MIDI and even Control Voltage and Gate outputs are onboard, allowing you to control everything from today's most advanced music software, to analog modular synths from as far back as the 1960s. Mackie Control and HUI protocols are also built in to give you instant compatibility with many industry standard DAWs.
Akai Pro Product Specialist, Andy Mac, takes you through the new MPC Software. This is the platform that will drive the MPC Renaissance and MPC Studio.
Features:
128-track sequencing capability
Massive 6GB+ sound library, including all of the sounds of the classic MPC3000
Instant mapping and real-time adjustment of VST plug-ins
Record each track as an MPC drum program, Keygroup program or VST plug-in
Works alone as your main DAW or works seamlessly with your current studio as a VST/AU/RTAS plugin
Supports WAV, MP3, AIFF, REX and SND
Supports samples and sequences from any MPC ever made
Mac and PC-compatible
This is the platform that will drive the new MPC Renaissance and MPC Studio Music Production Controllers.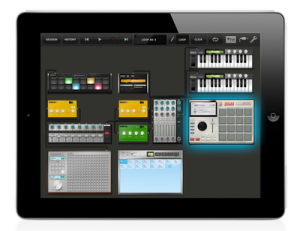 This ought to be a good one:
MPC in Tabletop! We're really excited about this one! As you may know, we're working with Akai Pro on the official MPC App for iPad. And now we can announce that the MPC will be available as a device inside Tabletop!"
The MPC on iPad is going to be a blast with classic MPC beat making features, sweet effects, and a killer sampling workflow, and now you'll be able to work this legendary device into your Tabletop sessions!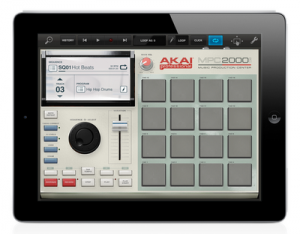 Possibly the best part is how it works: owners of the stand alone MPC app will automatically unlock the MPC device in Tabletop for free — no need to purchase it twice!
"We were lucky enough to grab the Akai MPC Fly app developer for a 5 minute walkthrough – something that the PR doesn't show you."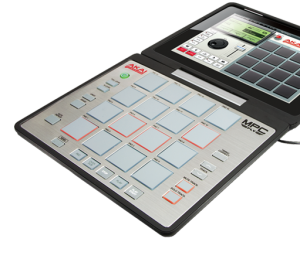 And here's AKAI's pitch:
MPC Fly merges unmatched Akai Professional technology with the power of your iPad 2, embodying legendary capabilities that have made the MPC an industry standard like real MPC pads, MPC Note Repeat and MPC Swing. Its multifunctional, double-hinged design gives you the flexibility to produce tracks anywhere, while also acting as a protective case between sessions and giving you total access to your iPad 2 for normal uses.
Sequence four tracks simultaneously: four-track mixer built in
Built in sound library of samples and drum kits
Record and overdub sequences and create and edit your own Programs
16-Levels mode: play one sample at 16 levels of attack, velocity, length, and tuning
Note variation slider allows you to manipulate attack, velocity, length, and tuning as you play
Built-in effects: delay, bit crusher, master compressor/limiter
Time correct: 1/8 note – 1/32T with variable Swing setting
Note Repeat: 1/8 note – 1/32T timing
Sample using internal mic or line-in and trim and categorize samples
Sample from your iPod library with turntable interface
Share on SoundCloud, Facebook or twitter
Supports WIST, Wireless Sync Start protocol from Korg
Supports AudioPaste
The Akai Max 49 is unique in the way it combines traditional keyboard controller functions with MPC pads, control voltage support and LED faders.
The Nord Drum is not sample-based, but uses a virtual analog synth engine that's designed specifically from drum synthesis.
A lot of buzz around  the WX-P1 – the first Casio synth release for 20 years.
No clue why this video is upside down, but at least you get some good views of AKA's MAX 49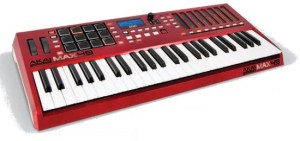 The new Akai MAX 49 Keyboard Controller may look like a typical controller keyboard (albeit well equipped), but it has a number of features that set it apart as one of the most versatile controllers available. Aside from the familiar trigger pads featured on the MPK range of controllers, and the same semi-weighted keyboard, the MAX 49 has features which make it capable of controlling just about synthesiser, past or present.
The Akai MAX 49 is similar in appearance to the MPK range of keyboards, though this model is finished in red. To the left of the unit, 12 velocity sensitive, and backlit trigger pads provide an intuitive way of programming percussion parts, or triggering live samples. These features the swing and note repeat feature made famous on the MPC range of samplers. To the right, 8 touch faders add additional control over the synthesiser or software package currently being used. In terms of controlling synthesisers, the Akai MAX 49 is better equipped than any other controller available. Aside from the more familiar connections, such as a USB socket for connection to a host computer, an a MIDI socket for connecting to other keyboards, sound modules or MIDI equipment, the MAX 49 has a CV & Gate Output, making it capable of controlling vintage (or modern) analogue synthesisers. With the recent increase in popularity of genuine analogue synthesisers, this feature may make it the first choice of controller for those looking to 'go analogue' in a live setting.
The Akai MAX 49 's CV connectivity goes hand-in-hand with another of its features: an on-board step sequencer. This allows patterns to be created on the unit itself and sent to whichever synthesiser is being controlled. An arpeggiator also features. For those who are more rooted in the modern studio, the MAX 49 comes complete with a software package called AkaiConnect. This neat utility automatically maps the keyboards controls to VST plug-ins. To further increase compatibility with software packages, the device can operate in Mackie Control and HUI modes.
The Akai MAX 49 is a great controller in its own right, but the addition the step sequencer, arpeggiator and CV and gate outputs provide a means of adding additional features to an analogue synthesiser, as well as providing a central device for controlling both modern and vintage synthesisers. Is this the beginning of an analogue renaissance?