Rutger Muller explores yesterday´s release from KORG – the Polysix for iPad, details below:
Jamming on an iPad 1 with the official demo 'Submarine Drift' track I made for KORG's new iPolysix app.
– App Store: https://itunes.apple.com/app/korg-ipolysix/id579232173
– More of my KORG iOS music: http://www.Soundcloud.com/iNALOG
– KORG iPolysix introduction video: https://www.youtube.com/watch?v=KH6eiiouFjw
More of my works:
– Hypnotic School (dreampop/triphop):
https://www.youtube.com/watch?v=_oMEgwWyD00
– AuxPulse (acid/IDM on Nintendo DS):
https://www.youtube.com/watch?v=aPPPuGTKslI
– DS-10 Dominator (various EDM/acid on Nintendo DS):
https://www.youtube.com/watch?v=kTPFcn7fTsk
– My complete portfolio:
http://www.RutgerMuller.nl
Here is a video Jordan Passmore created using segments of a Roland promo video they released sometime in the late 90's.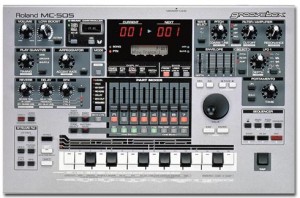 An all in one techno music production studio, this machine has it all. A massive collection of professional and coveted electronic synth and drum sounds, effects, built-in real-time VCF and envelope knobs for tweaking, a sequencer/arranger, and many other great additions. This is the successor to the MC-303 and is now much more advanced. Its sounds will be familiar to any techno-head.
The LFO and resonant filters allow quick and easy sound manipulation. The new D-Beam allows you to randomly tweak your sounds by passing your hand over an infrared beam! It has a great sequencer for building your songs (with groove quantizing and part level faders for mixing) as well as many idea catchers like the phrase sampler and arpeggiator.
This is an all-in-one music machine that's great for DJ's or anybody else who wants to create slamming dance tracks. Designed as a stand alone machine, they do not work quite as well when incorporated into a multi-synth keyboard rig. It's perfect for beginners and advanced users, but offers the most possibility to those who will use it exclusively. By the way, in comparison to the MC-303, this is far better especially in the quality and quantity of sounds!
Both, a cuicuit-bent Korg Monotron and a Nanoloop (Synthesizer and Sequencer on Nintendo Gameboy) are synced by the trigger impulses sent by a Roland TR-626 drum computer.
This allows to filter the raw chiptune sound of Nanoloop by the analog filter of the Monotron. The retrigger of the Monotron LFO is the red wire. The sync mod is done like shown here: http://stevewoodward.posterous.com/lfo-reset-point-on-korg-monotron
Bananalogue/Serge/VCS Rubicon/intellijel MakeNoise/DPO MFB Livewire Doepfer Wiard/Malekko
Audio http://www.mixcloud.com/Dave77/eurorack-modular/
Dance music duo Orbital is one of techno's most celebrated and accomplished partnerships. They pack a punch and we hear songs from their new album, Wonky, when these Brits invade KCRW studios on Morning Becomes Eclectic. Watch / Listen to the full session here: http://www.kcrw.com/music/programs/mb/mb120924orbital
Techno live set utilizing
-Korg Electribe S
-Korg Monotron
-Nanoloop
-Echopark
-TR-626 (MIDI and sync-trigger master)
Gameboy and Electribe (not the Monotron filter LFO) are synchronized via MIDI or trigger pulses from the TR-626 sync master. The Delay is synced manually by tapping.
—————————————————————–
https://sites.google.com/site/synthaquarium/
New exclusive video from Untold and their nice new techno tune 'Overdrive' by Untold on Hemlock Records. Video by Iain Action. Untold's work the perfect answer to anyone who says modern electronic dance productions must be cut and paste. Untold is still exploring new sounds, amidst some impressive commercial success.
For more information go here:
http://www.mixmag.net
http://soundcloud.com/hemlockrecordings/sets/untold-change-in-a-dynamic/
http://www.surus.co.uk/hemlock-recordings
http://www.facebook.com/itsgonnaworkoutfine
Video by Iain Action: http://cargocollective.com/iainacton/
Jordan Passmore demo of the Roland TR-808, Akai MPC-60 and Roland SC-880. SC-880 is playing the rave patches, MPC-60 is loaded full of TR-909 samples and is also sequencing 909/synth, TR-808 is doing 808. All held together by a Garfield Nano Doc Sync/Clock adapter. All sounds are mixed live on an old Studiomaster mixing board; from there they pass through an Electra EQ, then finally into my Native Instruments Kore Audio Interface. The SCC-80 has an analog delay attached to it, which when I'm out of the shot, I'm usually messing with. I also have a Behringer Virtualizer Pro Reverb on an effects send (a bit of the 909 and SC-880 are send to this).
The MPC-60 loaded with 909 samples is pretty hard to beat for completely cutting through a mix. I personally love the 808 so of course I threw that on top as well. The SC-880 is very interesting and totally useful (multitimbral and full of many very usable effects). I found these patches on it and decided to do a short demo from there.
Minimalistic 8-bit techno with Nanoloop & Line6 EchoPark.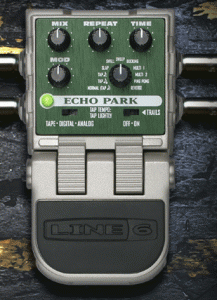 Based on the award-winning DL4™ Delay Modeler, Echo Park™ is loaded with unbelievable sounding models including Analog, Tape, and Digital Delay. Different delay patterns such as slap, ping pong, swell, and sweep can be adjusted with the twist of a knob, and the Mod dial can be tweaked for even more variations. Also features Tap Tempo and stereo ins and outs.
Jamming with ReBirth for iPad. Two TB-303s, a TR-808, a TR-909 and various effects, all in one App with a pretty nice interface
Description:
ReBirth is back! Propellerhead Software's legendary Techno Micro Composer has been resurrected and customized for the iPad. ReBirth faithfully emulates dance music's three backbone devices: The Roland TB-303 Bass synth and the Roland TR-808 and 909 drum machines. Combine these with FX units, fully featured pattern sequencers and a gorgeous-looking interface and you're ready to make killer tracks on your iPad. Share your music with friends on Facebook, Twitter and more using the built in sharing features.
Features
2 x TB-303 Bassline Synthesizer with pattern sequencer
The original Acid House and Techno bass synth. Unrivaled power, unmistakable sound.
TR-808 Drum machine
Roland's sub-heavy 1980 beat computer. Instant hip-hop.
TR-909 Drum machine
The go-to beatbox for everything House and Techno. Press play and you're dancing.
Tempo-synced digital delay
Bouncy and hypnotic, always in time with your music.
Compressor with threshold and ratio
A bare-bones compression unit for added beefiness.
Distortion unit with amount and shape
Raw and rugged distortion for that extra edge. Works wonders with any 303 bassline.
PCF effect
Pattern controlled Low-pass / Band-pass filter – a tweaker's delight.
Mixer
Device specific mixer sections with pan, delay sends and FX switches
Mod support
Includes 7 original user mods with alternative sound sets and graphics
Sharing features
Share function with easy publication of songs to Facebook, Twitter and other social networks.