Just the name of the video make you wanna check it out
It performed with this friend. ———- roland tr909 tr808 tb303 sh101 sre555 moog minimoog analogue solution vostok ems vcs3 korg sq10 sherman filterbank2 and more

————————————————-
analog_techno_improvisation 2
http://youtu.be/MiVaIc3F8go
————————————————-
analog_techno_improvisation 3
http://youtu.be/dCKMVOnIpQo
————————————————-
This year Moog went to Movement Electronic Music Festival to celebrate Detroit and had the opportunity to speak with 3 Detroit techno innovators. Watch Carl Craig, Mike Huckaby, and Kyle Hall talk about the beginnings of Detroit techno, the influence their beloved city had on the music, and how the Minimoog affected their sonic landscape.
Music courtesy of Mike Huckaby.
Want to use their sound?
These three DJs, plus Juan Atkins, the originator or Techno, lent their talent to Moog to create the Movement pack, free downloadable presets for Animoog.
Get the Movement Pack at:
http://www.moogmusic.com/content/animoog
and learn more about Moog's iOS synth Animoog at:
Channel Robot has released Tech Vocals, a sample library is the Grid Machine Slice series for Kontakt.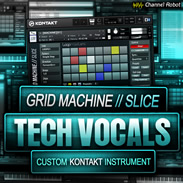 Here are Volumes 2 and 3 of the best selling Minimal Tech Vox – a fantastic collection of snipped, glitched, processed and tweaked minimal vocal samples, produced specifically for the dance music producer.
Whether you are making Tech, Electro, Deep or Mainroom Dance Music – these samples recorded by pro session singers have been mangled, chopped and edited to provide you with the building blocks for some awesome grooves.
Featuring a killer selection of one word single shot samples, glitched vox sounds, vox stabs, Fx Processed Loops, vocal hooks and re-sequenced parts which together form a formidable collection of samples for any producer looking to introduce the human element to loops and sections of their productions, and now you can further process cut, mix, slice and glitch to produce completely unique content in Grid Machine Slice.
The sound library is available to purchase from Loopmasters for £29.95 GBP.
KMS 25 – featuring Kevin Saunderson, Derrick May, Juan Atkins & Eddie Fowlkes.
with LIVE performances by Carl Craig presents 69 Live & INNER CITY.
More info: http://www.kevinsaunderson.com/kms-25.html
OUT NOW. The short trailer featuring a young lady making a very unappetizing looking slice of toast is rumored to be the first in a series of short films sound tracked with music from the SSSS album.
Ssss is now available to buy (UK) from:
Play.com – http://bit.ly/vcmgplay
HMV.com – http://bit.ly/vcmghmv
Amazon.com – http://amzn.to/vcmgssss
For more information:
http://www.facebook.com/VCMGofficial
http://www.mute.com
http://www.facebook.com/muterecords
http://twitter.com/muteuk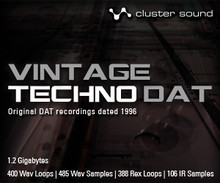 Cluster Sound has announced Vintage Techno DAT, a true vintage multi-format sound library based on original DAT tape recordings dated 1996.
Vintage Techno DAT is a huge loop collection extracted from personal DAT tape recordings dated 1996 and created by a young Antonio Dilillo, the man behind Cluster Sound.

The library consists of 1.2 Gigabytes of remastered basslines, synth loops, percussions, noises, effected kicks, HHats, snares and everithing you need to add a retro look to your techno tracks.
Vintage Techno DAT features
1.2 Gigabytes.
400 WAV Loops & Sequences.
388 REX Loops.
485 WAV Samples.
7 Kontakt Drum Kits.
7 Ableton Drum Kits.
106 IR Samples.
106 Kontakt Convolution Presets.
Vintage Techno DAT is available to purchase for 24.95 EUR.
Background : the 1996 was a very exciting year. Techno music passed beyond the "old school" era and producers diffusely started creating complex sounds, emotional athmospheres and rich structures. In that period the modern meaning of computer music was at its early stage and everyone tried to do his best with the few instruments at his disposal. The result took the form of hundreds of innovative labels (Primate, Soma, Nova Mute, Evolution, Plus8, just to mention few) that laid the fundations of modern techno music.
The source : The original loops and sequences had been created with several hardware synthesizers, drum machines and by sampling vinyls and radio signals. All the loops were initially sampled, edited and processed with a glorious Creamware TripleBOARD, the first "Hard Disk Recording" system for PC, and then recorded on a Tascam DA-20 (basically used as storage medium because of the small hard disc capacity).
Arnaud Rebotini, the leading light of french electronic music is showing us how to make great techno tracks with Minibrute in an exclusive in-studio interview.
In January 2012, the I Dream of Wires team stopped by the studio of techno producer Drumcell, to discuss his evolution from producing with hardware, to software, and now back to hardware again, with a focus on eurorack modular synthesis. The interview was conducted for inclusion in "I Dream of Wires: the Modular Synthesizer Documentary." Drumcell is also the founder of Droid Recordings, and co-founder of Droid Behavior, one of LA's longest running techno event promotion companies, standing at the centre of the West Coast techno community for nearly a decade.
I DREAM OF WIRES is a forthcoming documentary film about the history and resurgence of modular synthesizers. The film is currently in production. This is the 3rd in a series of extended interviews, which will be produced and released in various formats throughout the production, and following the release, of the film. I DREAM OF WIRES extended interview segments are sponsored by MATRIXSYNTH (m.matrixsynth.com).
For more info on Drumcell, visit:
soundcloud.com/drumcell
droidbehavior.com/blog/artists-team/drumcell
For info on the film: idreamofwires.org
Back to the old school music with Propellerhead Rebirth on Ipad : made this new song Wild Nights (Techno / dance), while in the train with my Ipad2.
Just enjoying to play with this nice little application and hope to see reason coming!

Time again for a review here at Steelberry Clones – this time we have taken a closer look at Nucleus SoundLabs' new Reason Refill called Celluloide Beats.
To begin with Celluloide Beats consists of around 50 (x8) or so Combinator patches and associated sounds recreated as REX-files. Due to the way they are built they may easily be run in anything from 60/70 BPMs up to 270 > or so BPMs – it will still sound great. To get an overview of what you are getting I would loosely categorize it as multi-sampled drums, beats and percussions into a massively unique and powerful mix of rhythms and sounds that would easily fit into dubstep, electro, house, techno type music, but I would not limit it to that since there are several intriguing ambient type sounds with a real sci-fi / cinematic approach to them.
A good thing with the CMBs are that they are very easy to work with, partly because each CMB is more or less a full mix in itself with limited need for further mixing and mastering, and partly because they are using fairly common rhythms meaning that the tempo and the sequenced beats are not overly experimental. Each Combinator patch in a Celluloid Beats contains 8 loops – 1 original loop and 7 creative loop remixes. This is achieved, according to Nucleus, by using the Slice Edit Mode on Dr. OctoRex to change filtering, decay, volume and more on a per-step basis for each loop. Going farther than that, unique FX are added to each patch which are used to effect specific loop slices – so each slice in a loop can have a different distortion, filtering or delay. The resulting loop remixes sound incredibly complex, but they certainly aren't complicated to use.
To purchase the product use the link below:
Click here to view more details