KMS 25 – featuring Kevin Saunderson, Derrick May, Juan Atkins & Eddie Fowlkes.
with LIVE performances by Carl Craig presents 69 Live & INNER CITY.
More info: http://www.kevinsaunderson.com/kms-25.html
OUT NOW. The short trailer featuring a young lady making a very unappetizing looking slice of toast is rumored to be the first in a series of short films sound tracked with music from the SSSS album.
Ssss is now available to buy (UK) from:
Play.com – http://bit.ly/vcmgplay
HMV.com – http://bit.ly/vcmghmv
Amazon.com – http://amzn.to/vcmgssss
For more information:
http://www.facebook.com/VCMGofficial
http://www.mute.com
http://www.facebook.com/muterecords
http://twitter.com/muteuk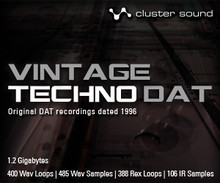 Cluster Sound has announced Vintage Techno DAT, a true vintage multi-format sound library based on original DAT tape recordings dated 1996.
Vintage Techno DAT is a huge loop collection extracted from personal DAT tape recordings dated 1996 and created by a young Antonio Dilillo, the man behind Cluster Sound.

The library consists of 1.2 Gigabytes of remastered basslines, synth loops, percussions, noises, effected kicks, HHats, snares and everithing you need to add a retro look to your techno tracks.
Vintage Techno DAT features
1.2 Gigabytes.
400 WAV Loops & Sequences.
388 REX Loops.
485 WAV Samples.
7 Kontakt Drum Kits.
7 Ableton Drum Kits.
106 IR Samples.
106 Kontakt Convolution Presets.
Vintage Techno DAT is available to purchase for 24.95 EUR.
Background : the 1996 was a very exciting year. Techno music passed beyond the "old school" era and producers diffusely started creating complex sounds, emotional athmospheres and rich structures. In that period the modern meaning of computer music was at its early stage and everyone tried to do his best with the few instruments at his disposal. The result took the form of hundreds of innovative labels (Primate, Soma, Nova Mute, Evolution, Plus8, just to mention few) that laid the fundations of modern techno music.
The source : The original loops and sequences had been created with several hardware synthesizers, drum machines and by sampling vinyls and radio signals. All the loops were initially sampled, edited and processed with a glorious Creamware TripleBOARD, the first "Hard Disk Recording" system for PC, and then recorded on a Tascam DA-20 (basically used as storage medium because of the small hard disc capacity).
Arnaud Rebotini, the leading light of french electronic music is showing us how to make great techno tracks with Minibrute in an exclusive in-studio interview.
In January 2012, the I Dream of Wires team stopped by the studio of techno producer Drumcell, to discuss his evolution from producing with hardware, to software, and now back to hardware again, with a focus on eurorack modular synthesis. The interview was conducted for inclusion in "I Dream of Wires: the Modular Synthesizer Documentary." Drumcell is also the founder of Droid Recordings, and co-founder of Droid Behavior, one of LA's longest running techno event promotion companies, standing at the centre of the West Coast techno community for nearly a decade.
I DREAM OF WIRES is a forthcoming documentary film about the history and resurgence of modular synthesizers. The film is currently in production. This is the 3rd in a series of extended interviews, which will be produced and released in various formats throughout the production, and following the release, of the film. I DREAM OF WIRES extended interview segments are sponsored by MATRIXSYNTH (m.matrixsynth.com).
For more info on Drumcell, visit:
soundcloud.com/drumcell
droidbehavior.com/blog/artists-team/drumcell
For info on the film: idreamofwires.org
Back to the old school music with Propellerhead Rebirth on Ipad : made this new song Wild Nights (Techno / dance), while in the train with my Ipad2.
Just enjoying to play with this nice little application and hope to see reason coming!

Time again for a review here at Steelberry Clones – this time we have taken a closer look at Nucleus SoundLabs' new Reason Refill called Celluloide Beats.
To begin with Celluloide Beats consists of around 50 (x8) or so Combinator patches and associated sounds recreated as REX-files. Due to the way they are built they may easily be run in anything from 60/70 BPMs up to 270 > or so BPMs – it will still sound great. To get an overview of what you are getting I would loosely categorize it as multi-sampled drums, beats and percussions into a massively unique and powerful mix of rhythms and sounds that would easily fit into dubstep, electro, house, techno type music, but I would not limit it to that since there are several intriguing ambient type sounds with a real sci-fi / cinematic approach to them.
A good thing with the CMBs are that they are very easy to work with, partly because each CMB is more or less a full mix in itself with limited need for further mixing and mastering, and partly because they are using fairly common rhythms meaning that the tempo and the sequenced beats are not overly experimental. Each Combinator patch in a Celluloid Beats contains 8 loops – 1 original loop and 7 creative loop remixes. This is achieved, according to Nucleus, by using the Slice Edit Mode on Dr. OctoRex to change filtering, decay, volume and more on a per-step basis for each loop. Going farther than that, unique FX are added to each patch which are used to effect specific loop slices – so each slice in a loop can have a different distortion, filtering or delay. The resulting loop remixes sound incredibly complex, but they certainly aren't complicated to use.
To purchase the product use the link below:
Click here to view more details
http://youtu.be/yOoB0YSVuKw
VCMG' second release from 'Ssss'
VCMG release one of 2012′s most anticipated musical collaborations with the album 'Ssss', out on 12 March 2012.
It marks the long awaited reunion of electronic pioneers Vince Clarke (Erasure/ Yazoo/ Depeche Mode) and Martin L. Gore (Depeche Mode)
Ssss Tracklisting:
Lowly
Zaat
Spock
Windup Robot
Bendy Bass
Single Blip
Skip This Track
Aftermaths
Recycle
Flux
Techno performance by Jimmy Myhrman on the Elektron Trinity (Machinedrum, Octatrack and Monomachine).
"This is a preview of an upcoming track (not yet released). I will add release info here as soon as it's available."
Done on the Elektron Trinity (Octatrack, Machinedrum, Monomachine) and some samples from OP1 – actually 90 percent of the material was sampled on to the Octatrack from the machines – it works amazing as a producing machine

Took around 2 hours to create the track but took longer to actually 'perform' it right and have the video looking OK.
Elektron Trinity:
Radical audio processing
The Octatrack is the given centre piece of the trinity. Since the audio outputs of the Machinedrum and Monomachine can be connected to the two input pairs of the Octatrack, no additional mixer is needed. The Octatrack can at the same time sample the incoming sounds, play back pre-recorded loops, add effects and in general radically process and bend sounds in any way imaginable.
The powerful rhythm section
Beats are taken care of by the Machinedrum. Five drum synthesis methods with detailed control of all parameters makes it right at home for all kinds of rhythmic material. The gritty 12 bit sample engine is especially suited for one shot drum hits and will make the UW samples stand out in any PA-system. The combination of drum synthesis and sampling equals complete drum excellence.
Sounds from outer space
The Monomachine is perfect for all things melodic. No matter if is about basses, leads or strange sounds: the flexible Monomachine sound engine can handle it all. The five different synthesis methods are the key. Imagine a sound and then create it in a few seconds with the help of FM synthesis, analog emulation, digital wavetables, SID chip emulation and speech synthesis.
Here's a new sound pack from Sampler Banks – featuring minimal techno sounds
http://www.samplerbanks.com/pure-minimal-minimal-techno-drum-loops-and-sample…
Pure Minimal is a collection of glitched, processed and tweaked minimal music loops produced specifically for the dance music producer.
Samplerbanks has released Pure Minimal, a sample set that they say features hundreds of twisted drum loops, bass and synth sounds, dozen of sampler kits offering you a fresh start for your minimal techno productions.
Pure Minimal is produced by Nawarro, a professional producer creating remixes and EPs for Anjunabeats, Deep Blue, Blaubeat (Baroque) and Dowalve Records, and Samplerbanks tells us that this sample pack was particularly inspired by the tribal and percussive movement as well as artists like Deadmau5, Sander van Doorn and Wippenberg.
Samplerbanks say that Pure Minimal is a collection of glitched, processed and tweaked minimal music loops produced specifically for the dance music producer. The pack contains 308 Drum, 65 Bass and 36 Synth Loops recorded at 126, 127 and 128 bpm. Loops are available not just as ACID-ised WAV files, but the whole source material is available in Apple Loop, REX2, Reason 5 ReFill or Ableton Live Pack formats
Added to the package are 100 Hats, 102 Kicks, 100 Percussions, 9 Riffs, 100 Claps, 50 SFX, 22 Stabs, 15 Vocal One-shots, 50 SFX and even 15 Egyptian vocal one-shot samples recorded during a trip. Samplerbanks tells us that all these samples are pre-mapped as 12 sampler banks kits for the popular software sampler formats: Kontakt, EXS 24, HALion, Reason NN-XT and SFZ.
541 MB original sounds, 100% royalty-free
409 24-bit loops categorized into Bass, Drum and Synth sections
498 one-shot samples
12 ready to play patches for Reason NN-XT, HALion, Kontakt, EXS and SFZ compatible soft samplers.
Formats: Ableton Live, Reason Refill, ACID WAV and Apple Loops versions are available separately.
Pricing and Availability:
$31 USD / £19.95 GBP / 24.16 Euro – available as instant download
More information: