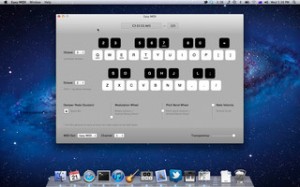 After a year flodded with specific apps targeting the iOS side of the coin – it is nice to see someone taking a stab at improving or updating the controller side of thins for OSX users. Nikolozi Meladze has released Easy MIDI, an app that turns your Mac keyboard, trackpad and mouse into a powerful MIDI keyboard controller. It sends MIDI notes and control messages to any soft synth or DAW such as GarageBand, Logic Pro, Ableton Live, Cubase and Digital Performer. This is very useful when you want to jot down some musical ideas quickly and easily whilst travelling, sitting in a coffee shop or even on your couch at home.
Easy MIDI even allows you to control iPad apps that support CoreMIDI or hardware synth via MIDI interface.
Easy MIDI features
Send MIDI notes and control messages to any DAW or MIDI driver.
Notes can be triggered using alphanumeric keys.
Over 3 octaves under your fingertips.
Easily change keyboard octave with up/down arrows.
Visual feedback eliminates the need to look down on your Mac keyboard.
Sustain on/off can be triggered with a space bar.
Vertical scroll changes note velocity.
Pitch bender can be controlled with a pinch zoom gesture or a vertical mouse drag.
Modulation can be controlled with a rotation gesture or a vertical mouse move.
Adjustable Easy MIDI window transparency.
Easy MIDI for Mac is available to purchase for $29.99 USD.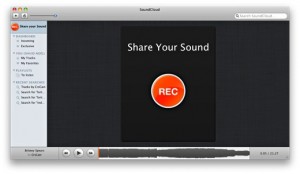 SoundCloud today released a free SoundCloud client for Mac OS X, available in the Mac App Store:
We're bringing the SoundCloud experience to your desktop that allows you to access all the sounds shared exclusively with you to browse, listen to and favorite sounds. Create custom playlists and saved searches to see the sounds you need in an instant and download others for offline playback. And just like all the official SoundCloud apps it also includes record functionality that lets you easily capture and upload any sound whenever you need to share or store something quickly.
SoundCloud is free service (with paid options) for sharing music on the Web, desktop and mobile platforms.
Features:
Record: capture your sounds right in the app and upload to your SoundCloud account in no time.
Listen to, favorite and manage your exclusive and incoming tracks in one place.
Browse and search any sound
Create playlists and saved searches
Pod Library (iPod Touch in Music) played the keyboard while playing any song
Easy enough to play the keyboard slides
Scaling function keys that can play sound without removing the keyboard at all but ?Kenaku
Tilt the iPhone emotional Biburatoefekuto
With Song of the recorded version of "Music Flowing" is newly written songs dedicated this App!
[Basics]
Song selection button (note button) Press, iPod Library (iPod Touch in Music) to select their favorite songs. Press the Play button to start playing.
Slide your finger to play on the keyboard. (You can also play music when you stop.)
When the pitch of the keyboard and the song fit the drawers pull out the key from the right scale (scale) Change. You can also adjust the volume and tone.
Tilt the keyboard to scroll from side to side, up and down the pitch accordingly. Tilted back and takes a vibrato.
Set the direction of the scroll panel size keyboard keys (open wheel buttons) can be changed.
[Application Guide]
Once the scale is the key information in the automation editor (text format) you burn a song you can play the same key from the next scale.
Because plain text, a copy of data created externally and paste is easy.
With Song song version bundled "Music Flowing" is configured so the automation can play a key scale for now.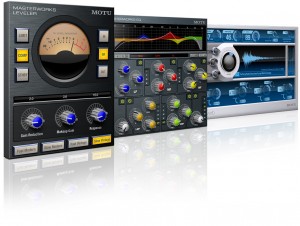 MOTU has announced it is now shipping the MasterWorks Collection, an advanced audio plug-in bundle for Pro Tools, Logic Pro, Cubase, and other Mac OS X hosts that support RTAS, Audio Units, and VST3 audio plug-ins.
"MOTU has received many requests from Pro Tools, Logic, Cubase, and Live users who wanted to get their hands on Digital Performer's MasterWorks plug-ins," said Jim Cooper, MOTU Director of Marketing. "Now they finally can."

The bundle includes three masterfully crafted audio processors suitable for even the most critical and demanding mixing situations. Originally developed exclusively for Digital Performer, the MasterWorks series plug-ins have developed a reputation for their incredibly authentic analog hardware modeling, 32- and 64-bit internal floating point processing, and highly CPU-efficient performance. All three plug-ins support mono, stereo and surround channel configurations (with supporting host software), and users can share MasterWorks plug-in presets among different hosts.
MasterWorks Collection features
MasterWorks EQ – modeled British analog EQ
Inspired by legendary British console EQs, the MasterWorks EQ™ delivers the look, feel and sound of the most sought-after classic analog equalizers.
MasterWorks Leveler – vintage automatic gain control
The MasterWorks Leveler™ is an accurate model of the legendary Teletronix™ LA-2A optical leveling amplifier, known for its unique and highly sought-after Automatic Gain Control (AGC) characteristics.
ProVerb – stunningly realistic acoustic spaces
From soaring cathedrals to primordial forests, ProVerb™ is a CPU-efficient convolution reverb that delivers the sound of stunningly realistic acoustic spaces to any track or mix.
The MasterWorks Collection is now available to purchase for Mac OS X (version 10.5 or 10.6), priced at $295 USD.
More information: MOTU / MasterWorks Collection
Expert Sleepers unveils Augustus Loop v2.3.0.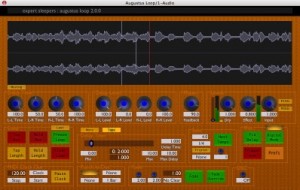 Augustus Loop is an emulation of a tape-based delay effect for both Windows and Mac OS, with some extra features to facilitate its use as a looping device.
We're proud to announce the release of Augustus Loop v2.3.0.

The headline here is that this is our first 64 bit Mac OS XVST, and
so is usable without a 'bridge' in apps such as the 64 bit version of
Reaper, and will be usable in any forthcoming 64 bit Mac release of
Cubase.

The AU and Windows VST versions are also updated.
Changes:
* First 64 bit Mac OS X VST release.
* Improved handling of mouse events (dragging knobs would temporarily
freeze the host UI on some platforms).
* Improved accuracy of MIDI event handling.
Price: $49
Expert Sleepers announce the release of a new plug-in for both Windows and Mac OS X – Spectral Conquest v1.0.0.
Spectral Conquest is an effect plug-in that lets you directly manipulate the frequency spectrum of audio signals.

The incoming signal is analysed via a FFT (Fast Fourier Transform), resulting in the familiar spectrum plot where the full audio spectrum is split into a number of narrow frequency bands. The outgoing audio is then regenerated by an Inverse FFT. The interesting bit is that the plug-in lets you modify the frequency spectrum in between.
Spectral Conquest allows you to modify the spectrum in two ways:
– By setting a multiplier for each frequency band. You can simply draw out the multipliers in the GUI.
– By applying a script to the spectrum. Some basic scripts are included with the plug-in to perform operations such as filtering and gating, but you can also write scripts yourself to do whatever you like.
Shuriken has released BitTest, a free bitcrusher VST effect plug-in for Mac OS X. It converts your data to 8 bits, then you can turn the bits off (the top row) or invert them (the bottom row) individually. That is you can individually flip and invert the bits.
And that is all this little baby does, but she does it well.
Download OS X: BitTest.vst.zip
Download Windows: Shuriken will make a windows version when he get an incentive!
Toxic Biohazard is the 4th generation in the line of Toxic synthesizers. Toxic Bio distills the best features from the previous 3 versions to deliver our most concentrated Toxic ever. Beware!
Toxic Biohazard features a hybrid synthesis engine, combining the best of FM and Subtractive synthesis. With the addition of a warm, analog-modeled filter and set of built-in effects, the Toxic concept remains one of convenience, simplicity, and superb sound quality.
What's new?
Improved sound quality
"Physical Envelopes" that allow you to model how sounds in real world decay & resonate etc…
Integrated effects such as tube-like distortion, to warm stereo delay, reverb, flanger, and phaser.
A hybrid synth engine combining FM and subtractive synthesis
A complete rebuilt FM engine adding warmth
Alias-free oscillators with low CPU consumptom
An integrated simple sequencer (64 steps, which can be divided into two independent, 32 step modules to allow double-polyphonic patterns. Using our own "Smart Sequencer" technology, when a chord is played, the module defines that chord, and tunes the pattern accordingly.)
Visit http://www.image-line.com/documents/toxicbio.html to learn more, download a free demo, and listen to samples songs created with Toxic Biohazard.
I have received quite a few questions on the recently posted C64 VST and if there is something similar that will run on a MAC, well there is (of course) I just think the other one had a somewhat more intuitive user interface and a little better sounding as well.
But for you all MAC and C64 lovers here is your alternative:
…and while you are at it why not download this little silly DJ MP3 app:
C=iao and have a great weekend