In May 2011 FM traveled to Montreal to spend some time in the amazing analogue laden studio of Chromeo. They gave FM a full and detailed tour of almost everything they had.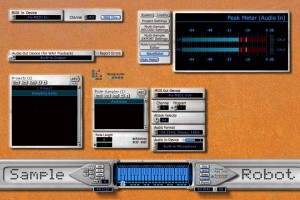 SKYLIFE has announced an updated cross platform version of their premier sampling suite, now available for both Mac OSX and for Windows OS. SampleRobot Pro and Multi-X are now upated to version 4.25 with optimized cross-platform support for Mac OS X and Windows 7. Furthermore an updated operation manual is included.
About SampleRobot 4:
With SampleRobot 4 Pro you can easily do automatic sampling of acoustic and electronic instruments. It does not matter what you would like to sample: orchestral instruments, choir, organs, electric guitars, ethnic percussion, adlips, sound scapes, noises, MIDI gear, virtual instruments, alpenhorns or whatever, SampleRobot makes your sampling as fast and as satisfying as possible. SampleRobot samples all sound nuances automatically and creates high-end sampled instruments in various formats. Seamless integrated WaveRobot software finds perfect loop points even for whole multi-samples with different velocity layers during recording. It was never easier to build professional-sounding software instruments.
Benefits of SampleRobot:
* Feed your compositions with inspiring samples from the world outside your studio
Create digital copies of your favorite instruments and sounds;
* Borrow instruments and keep a virtual copy (abiding by relevant copyright laws and license agreements of course);
* Build and sell/share your own sample libraries;
* Have all your sound hardware on your hard disk and travel with your laptop;
* Buy used gear and resell it after automatic sampling;
* Use all your software instruments cross-platform
* Work in other studios or on stage without carrying additional sound expanders;
* Play monophonic instruments polyphonically;
* Total recall for every session.
SampleRobot Multi-X is available as download alternatively with and without WaveRobot.
Learn more at: http://www.samplerobot.com/
Earlier this week we saw Adrian trying out the Arturia MiniBrute now it is time to check out his own studio and large synth collection
Source visited Portishead's Adrian Utley in his home studio to get his reactions to the Arturia MiniBrute analog synth. While we were there Adrian gave us a tour of his analogue synth collection (the stuff that was there, that is!).
Massive thanks go to Adrian Utley for kindly letting us visit, and for sharing his thoughts.
Information on the Arturia MiniBrute can be found here:
http://www.arturia.com/evolution/en/products/minibrute/intro.html
Find a UK Dealer to pre-order a MiniBrute:
http://sourcedistribution.co.uk/dealers/area.asp?item=arturia
For more on Portishead and Adrian Utley:
http://www.portishead.co.uk/
Curious about the new version of Sonar, then check this video out for a quick intro:
From getting great tone to releasing a final mix, today's musicians must master every element of the music production process. SONAR X2 Producer is there every step of the way, and the revolutionary Skylight interface lets you move seamlessly among the elements, instantly going from recording to editing to mixing and back again.
Dial up the perfect synth sound with Rapture or a searing guitar tone with TH2 Producer. Record it, tighten it, chop it, and drop it in the Matrix for realtime triggering. Shape it with the ProChannel. Warm it with the Console Emulator. And do it all with a single Smart Tool.
Background information:
welcome to my house/mobile studio! just giving her a test jam out!

hope you enjoy! Everything played live and fully improvised, no sequencing or loops were used.
http://www.noisyvagabond.com
This video tutorial features creating a simple synth part in a synth called Magellan and using AudioCopy/Paste to import the resulting audio into Auria. Then the optional In-App Purchase, Fabfilter Micro, is used to create some filter sweeps.
About Auria:
The mobile DAW you've been dreaming of has finally arrived. Auria is a 48-track digital recording system designed from the ground up for the iPad. With professional-level features like AAF import/export, and optional third-party plugin support from names like PSPaudioware, Overloud, Fab Filter and Drumagog (available via In-App purchase), Auria clearly sets a new standard for mobile recording.
FEATURES:
• 48 tracks of simultaneous playback of stereo or mono files. (24 tracks on iPad 1)
• Up to 24 tracks of simultaneous recording when used with compatible USB audio interfaces (Camera Connection Kit required)
• Supports sample rates of 44.1KHz, 48KHz and 96KHz, at 24 bits (iPad 1 supports only 44.1KHz and 48KHz)
• Vintage-inspired ChannelStrip on every channel by PSPAudioware includes Expander, Multiband EQ and Compressor
• MasterStrip on all subgroup and master channels featuring PSPAudioware BussPressor, EQ and Mastering Limiter
• 64 bit double-precision floating point mixing engine
• Third party VST effect plugin support available via in-app purchase (only iOS-version plugins are supported. All plugins must be purchased through the in-app store)
• AAF import and export allows transferring complete sessions between popular DAWs like Logic, Pro Tools, Nuendo, Samplitude and others
• Convolution reverb plugin with included IR library by MoReVoX
• ClassicVerb reverb plugin included
• StereoDelay and StereoChorus plugins included
• ReTune plugin included for auto pitch correction of vocals
• 8 Assignable subgroups and 2 aux sends
• Powerful waveform editor with features like cut/copy/paste, crossfade, duplicate, separate, gain, normalize, dc offset, reverse, and more
• Flexible snapping tools allow snapping to events, cursor, bars, beats and more
• DropBox, SoundCloud and Audio Copy/Paste support
• Track freeze for minimizing CPU usage
• Full automation support on all controls with graphical editing
• True 100mm faders when used in Portrait Mode
• Optional video import feature allows sample accurate sync of video to an Auria project with adjustable offset times and video export capability
• Timeline ruler options include minutes:seconds, bars:beats, samples and SMPTE time
• Auto-punch mode
• WIST support for wireless syncing of other compatible music apps
• AuriaLink allows two iPads running Auria to play and record in sync, allowing for 96 tracks of playback and 48 tracks of recording
• Full delay compensation on all tracks, subgroups, and aux sends
• Adjustable metering modes, including pre or post fader, RMS and peak
• Adjustable pan laws
• Sample accurate loop function
• Automatic sample rate conversion
• Built-in metronome
Vangelis Papathanassiou in a studio in Paris preparing material for his album "See You Later". In this clip he is warming up (improvising?) and warming the singers and drummers who are assembling for the session. Clip 2 will be material from that recording session. More information about Videoheads' activities and their collection available at http://videoheads.info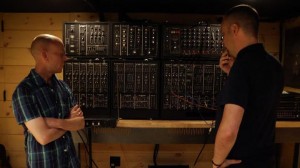 The I Dream of Wires crew checkod out Vince Clarke's new Brooklyn studio in July 2012. Above: Vince Clarke and Jason Amm (Solvent) contemplate The Roland System 700…check out the huge sequencer!
Vintage Emu Modular on the left and ARP 2500 in the background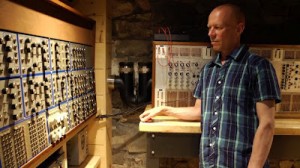 Oberheim SEM wall, OB-1, Xpander, Sequential Circuits Prophet-5 & more in the background.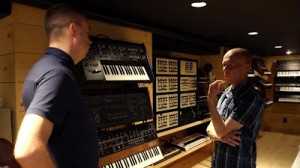 Remaining pictures can be found here >>
Blip Interactive has released a Mac OS X version of its popular iOS virtual studio, NanoStudio.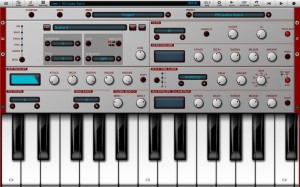 NanoStudio, the award winning music production app for iOS, is now available on the Mac App Store! Transfer your NanoStudio projects between iOS, OS X and Windows to make music wherever and whenever it suits you. Made a banging tune on your computer and need to go out? Email it to your phone and just carry on where you left off! NanoStudio has virtual analogue synths, sample trigger pads, a comprehensive sequencer, a sample editor, a mixer and multiple effects all integrated into a single application. Record your ideas in real time, mix synth layers with samples, compose and arrange your tune using the powerful sequencer and bring the mix alive with effects such as reverb, compression and EQ. Transfer projects between your computer and your iOS device, or use NanoStudio's comprehensive audio mixdown options and export features to get your ideas over to your favourite desktop DAW.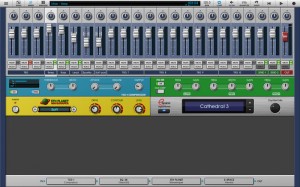 Key Features:
NanoStudio has virtual analogue synths, sample trigger pads, a comprehensive sequencer, a sample editor, a mixer and multiple effects all integrated into a single application.
Record your ideas in real time, mix synth layers with samples, compose and arrange your tune using the sequencer and bring the mix alive with effects such as reverb, compression and EQ.
You can transfer projects between your OS X or Windows computer and your iOS device, or use NanoStudio's audio mixdown options and export features to get your ideas over to your favourite desktop DAW.
Other features:
Eden synth (also plays samples) – single or dual keyboards, XY controllers, pitch bend and accelerometer control
Sequencer with up to 64 tracks and a piano roll editor for note, velocity and controller events, all with undo/redo
TRG-16 sample trigger pads
Sampling and resampling, sample editor and effects processor with undo/redo
Mixer with 4 inserts per channel, 2 global send busses and volume/pan automation on every channel
Transfer samples, final mixes and individual track mixdowns to your Mac/PC using NanoSync or email
MIDI input
Built in help
It's free  – so check it out in the Mac App Store
MicroTrack dB is a music making app for iPhone, iPad and iPod Touch.
Available now on the app store. http://itunes.apple.com/us/app/microtrack-db/id545192575?mt=8
Make music anywhere
Inspired by the classic instruments that defined electronic music and popular culture, this app puts music making in the palm of your hand. This portable, virtual studio offers high-quality audio output, intuitive sequencing, flexible drum programming and powerful synthesis, plus a range of effects and performance features. A user-friendly interface and online help enables beginners to start making music, while more advanced musicians will find a host of features to get their teeth in to. Get your creative juices flowing and produce tracks instantly. Realise your ideas, define your sound and create the music that you want to hear.
Technical Specifications
General
* Instruments — 1x drum machine, 2x bass synthesisers.
* Sequencing — on board pattern sequencers and performance sequencer.
* Component modelling — analogue filters and envelopes.
* Effects — delay, overdrive.
* 44.1kHz 32-bit signal path (output is 16-bit).
Synthesisers
* Square and saw tooth oscillator waveforms.
* Wave shaping features.
* 24dB low pass resonant filter.
* Multistage filter envelope.
* Note accent features.
Drum Machine
* 8 drum voices.
* 2 selectable samples for each drum voice.
* 8 voice polyphony.
* Adjust volume, start time, attack, decay, accent and FX send.
* Note accent features.
Sequencer
* Pattern sequencer designed for performance.
* 9 banks of 4 patterns per instrument.
* Song and edit modes.
* Cut/copy/paste/clear patterns.
Mixer
* Delay and overdrive effects.
* Mix track volume and output volume.
* Tempo controls.
* Volume maximiser.
Additional features
* Load and save tracks.
* Online help.