Tone2 has announced Analog, a new soundset for the Saurus software synthesizer.
Taking you on a journey through an analog world, the Analog soundset digs deeper into Saurus' offerings with a strong emphasis on authentic vintage sounds.

A collection of 200 classic synth sounds including emulations of the Moog, Oberheim, Jupiter, Arp Solina, Clavinet and many others that suit almost every style of Electronic music. Let Analog take you back to a time when these machines were at the center of every studio and now be the source for your creative productions

Enjoy its warm strings, expressive brass, dirty leads, squelchy basses, screaming synths, vibrant pads and just let it inspire you.
Analog for Saurus is available to purchase for 39 EUR.
Demo of the 'Remix pads' coming in version 1.1.0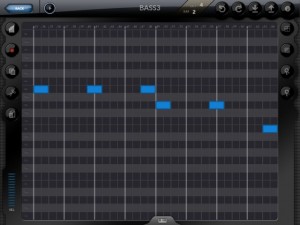 White Noise Software has announced an update to Genome MIDI Sequencer, its software sequencer for the iPad. Here's what's new in Genome MIDI Sequencer 1.1.0:
Fixes for playhead visual positioning issues
'Create' option for Grooves (create a groove template from a pattern, such as recorded MIDI notes).
Remix Pads
File management – Delete, email, Open in… (for opening files in other apps including Dropbox)
Improvements to Zooming – Zooming in and out should work a little better now in general. When zoomed out, the view now smoothly zooms in instead of abruptly zooming
New zoom mode. In additioned to the standard 'fixed' zoom (where X and Y scale is locked together), there's an 'advanced' mode that lets you zoom X and Y are independently zoomable.
OMAC App Fast switch – This allows you to quickly switch between compatible apps (not every app supports this yet) via a menu in Genome. The button for this is on the sequencer page.
Important Change: Genome's virtual port is no longer 'on' by default. You have to enable it via the config menu. The reason for this is that this is a frequent point of confusion for users. Having a virtual port can lead to issues where apps get connected twice (resulting in doubled tempos and other weird cases). It's only necessary for Genome to have a virtual MIDI port when other apps don't have one of their own. Only a few apps _don't_ have virtual ports (such as Animoog), but for the majority of apps you won't need it on.
Bugfixes and stability improvements
Not in 1.1.0 but being worked on:
MIDI Learn (for binding controllers to Patterns and Song steps) – I had wanted to get this in 1.1.0, but there are important bug fixes that need to get out now. This will be one of the first things I implement for the next update.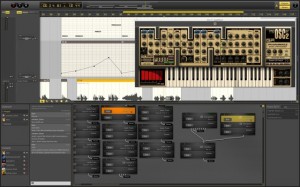 Ohm Force has announced the availability of Ohm Studio, the collaborative music production software for Windows and Mac.
After years of development, Ohm Studio is finally open to anyone for free. Thanks to its cloud-based architecture, the first truly collaborative online digital audio workstation lets Windows and Mac users work together—remotely and in real time.
Ohm Studio covers most of the major features available in modern DAWs, such as audio/MIDI recording and editing, as well as VST plugin support. Moreover, it comes with brand new effect plugins especially designed for Ohm Studio:
Compressor
Equalizer
Filter
Flanger
Limiter
Vocoder
And the famous Ohm Force collection:
Ohmicide:Melohman (multi-band distortion)
OhmBoyz (multi-tap delay)
Quad Frohmage (filter bank)
Predatohm (multi-band distortion)
Mobilohm (phaser)
Hematohm (frequency shifter)
Frohmage (filter)
Ohmygod! (comb filter)
Minimonsta:Melohman (synth, by GForce)
Oddity (synth, by GForce)
After creating your account on www.ohmstudio.com, access the online server via the Ohm Studio application. You can request to join projects created by other people or start a new one on your own. Once in a project, you can invite other Ohm Studio users or friends with no account to create one and join the project. The interactive interface instantaneously displays every action performed by all members of the project, while the built-in chat eases communication. When the track is done, you can export it to disk or to the project page on the web for showcase.
Beyond the software, Ohm Studio is also a worldwide community of musicians versed in music production. It is the perfect place to create music with bandmates or producers, meet like-minded or different people, find the skills you need and enhance your tracks. In a word, improve your music experience. Ohm Studio offers a modern, efficient, and creative way to make music alone and together.
Still in beta version and constantly updated, Ohm Studio is now ready for massive testing. Don't miss this unique, time-limited opportunity to try free of charge.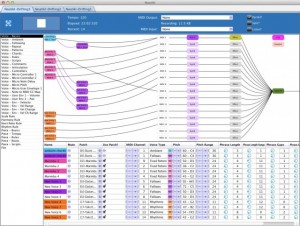 Intermorphic has introduced Noatikl 2, the latest version of their desktop generative music software for Mac & Windows.
It's currently available, in beta stage. Here's what's new…..
Noatikl 2 Features:
Integrated Partikl multi-synth & modular synth/fx network

Built-in support for the the advanced Partikl MIDI, sound & FX multi-synth for sound generation as previously featured in Mixtikl
Full MIDI output support still retained; Partikl output is optional (but enabled by default)
Partikl? checkbox in transport panel makes it a snap to enable/disable Partikl output
Makes it easy for new Noatikl users to get going without any preparation of hooking-up to separate synthesizers; Noatikl makes sounds right out of the box!
MIDI output from Noatikl is now optional – no need to configure Noatikl with MIDI devices!
Plug-ins: Noatikl generates both optional Partikl audio data (new!) and MIDI data (1.x)
The complete set of synth/effects presets as featured in Mixtikl
Supports built-in custom sample wavetable (DLS1/Ogg/Wav based) (dialogs not available Mixtikl)
By default, now saves to .partikl format, which includes all noatikl rule data and associated partikl sound data

New main Noatikl Network editor view

Shows both Noatikl Voice networks and Partikl Synth/Effects network
Drag Voice to MIDI Channel (or vice-versa) for easy MIDI channel mapping
Drag Voice to Voice for easy Follow/Repeat voice networks
Tap synth/effects boxes to pop-up built-in Partikl FX/Synth network/unit and sample editors
Supports built-in custom sample wavetable (DLS1/Ogg/Wav based)
Improved transport panel

Templates from Mixtikl now built-in

BellsMetalsArps
Dronemaker1
Gen Drums 1 MIDI (previously sold as an add-on for Noatikl at $6.99)
Gen Drums 1 Owt
Gen Drums 2 MIDI (previously sold as an add-on for Noatikl at $6.99)
Gen Drums 2 Owt
Gen Elements 1 MIDI (previously sold as an add-on for Noatikl at $6.99)
Gen Elements 1 Synth
GenMix1
GenMix2
GenMix3
GenMix4
GenMix5
GenMix6
GenMix7
Noatikl Seed
LoopBeats 1
LoopBeats 2
ZZZ_rests

Built-in support for playing partikl:// and noatikl:// URLs

Share your Noatikl compositions via Twitter!
Export your Noatikl compositions as "mixtikls" so Mixtikl / Mixtikl Free users can hear them!

New Menu options:

Export -> Export With Partikl Sounds
Export -> Export as Mixtikl Mix (share your Noatikl compositions with Mixtikl users – even those with Mixtikl Free!)
Export -> Export Noatikl Rules
Export -> Save As Noatikl Rules
Tools -> Show Folders -> Noatikl MIDI Recordings
Tools -> Show Folders -> ~/Library/Noatikl (Mac only!)
Tools -> Show Folders -> Noatikl data folder
Tools -> Show Folders -> Partikl TG
Tools -> Show Folders -> Partikl FX
Options -> Devices -> Output
Options -> Devices -> Input
Help -> Other IM Creativity Tools -> Mixtikl / Liptikl

Minor changes

Replaced the Pattern Editor dialog "Default" button with a "Presets" button, matching all various options in Mixtikl's drill-down Noatikl editor. This makes it *far* faster to get going with patterns.
Mac: by default use ~/Library/Noatikl, rather than ~/Documents/intermorphic/noatikl
Renamed various items in the Noatikl object/parameter group side-bar
If you try closing when a modified file is mid-edit, you're prompted first to save or close the file.
Various bug fixes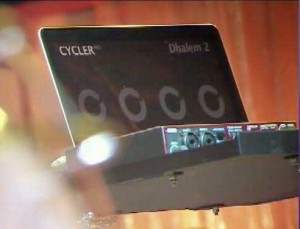 A pre-release version of Cycler Looper has been announced. Its makers tell us that the software has been created to support all aspects of sound performances (playback, looping, remixing) and gives musicians a simple yet extremely powerful set of looping tools. Here's their press release wih all the details:
Cycler Looper software gives musicians a simple yet extremely powerful set of looping tools. Created to support all aspects of sound performances (playback, looping, remixing), it can be learned in one hour, and does not require expertise in digital audio. Nicolas Lacoumette, a musician who designed award-winning audio software like the GURU rhythm system and the Krishna synthesizer, is behind this bold new product. Cycler Looper excels by providing musicians with an extraordinary sense of freedom, far surpassing other computer-based solutions. Users create their own personalized loop station (like a turbocharged RC-50), with clear, engaging on-screen visual feedback. Refined and field tested at numerous live shows, Cycler Looper speeds and facilitates the set-up and sound check. It eliminates trouble-prone connections between the sound board and the stage and automatically sets levels for all recorded loops. A built-in playlist system automatically manages loading, sequencing and fades while eliminating the risk of computer-related operational errors. It comes with a full range of standard looping functions. In addition, users can explore the musical potential of a particularly comprehensive suite of new functions: double, half, infinite undo/redo, resample, as well as full control over loop time. Cycler Looper's effects are specifically designed to solve problems that occur in live performance situations. Its practical library of stock effects, executable in real time with a single command, can be augmented with modular user-defined effects. A brilliant innovation, Cycler Looper's "temporal effects" modify a loop's timebase, yielding effects like slowdown, repeat, scratch, reverse and time stretch. In brief, Cycler Looper is an instinctive creative tool that enhances the pleasure of performing live, while freeing the user from technological constraints.
Summary of Cycler Looper's main features
Easy installation
Quick learning curve
Reliable and stable (Cycler Looper is a closed system, like Reason)
Synchronized multi-user support
Lightning fast project loading
Efficient user interface
Clear, elegant on-screen feedback
Very rapid set-up for live shows
Reduces overall equipment requirements (cables, preamps, mixers…)
Technical Features
8 loopers et 8 players per user
Auto Level correction on Record
Internal Playlist system with various crossfade modes
MIDI Board adaptive to any controller brand
Advanced looping functions
Peak detection on first loop (Perfect Match)
Free looping time, or adaptive to music (from 16th to 16 bars)
Easy and accurate Global latency detection
16 ins (stéréo/mono), 16 outs (stéréo/mono) manager
Odd signatures
Basic and graphical side chain compression effect system
Base Effects : Delay, Resonnant Filter (hpf/bpf/lpf), Overdrive, Flanger/Chorus,Phaser, Reverb, Volume/pan/mute, Ring/Amp Modulator, Bit/Samplerate reduction, compressor, Sample/Loop Player
Base Time Effects :Incarn, Reverse, Smooth, speed up, speed down, time stretch.
Modular and programmable effects
Send/Return
Minimum system requirement :
Mac or PC, Audio sound card. MIDI controller is welcome, but Cycler Looper also supports keyboard assignation.
Pricing and Availability:
Free download.
More information: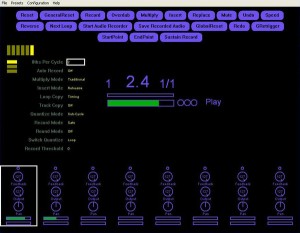 Circular Labs has announced a major update to its cross-platform looping software, Mobius.
Mobius is a free application for Mac & WIndows that was inspired by the hardware loopers of the past. But Mobius offers 8 synchronized stereo loopers that can be used in any combination with extensive MIDI and computer keyboard control.
Here's what's new in Mobius 2.0:
Redesigned synchronization engine for improved sync.
Support for Audio Units host sync (Logic, Garageband).
Support for other sample rates besides 44100.
Redesigned UI button window that works like other binding windows.
Improved OSC support.
Mobius is available now as a free download for Mac & Windows.
These are some new features that will be in Chipsune 2.0.
More info and downloads can be found here: http://www.facebook.com/pages/Chipsune/124212437700974
The songs that are demo here are property of Nintendo and Gamefreak, and are not included in the future update.
"This is a video using the Fastfingers Lead Synthesizer software for Commodore 64 and my drumming. I added a new Lightshow feature to Fastfingers, which changes the color of the screen in time with the music.
All of the sounds are C64 Fastfingers sounds except for my drumming."
This is a very cool demo of the AudioGL modular, check it out
Another update on the AudioGL project. This video features a crowdfunding announcement, and a software demonstration.
Crowdfunding Campaign:
http://www.audiogl.com
or
http://www.indiegogo.com/AudioGL-Crowdfunding-Campaign
Background information:
AudioGL is a Modular Software Synthesizer and Sequencer.  It is designed to allow musicians to create complex compositions with ease.  AudioGL has a dynamic 3D interface which focuses on streamlining workflow, so composers can spend less time navigating the interface, and more time writing music.
Here are the specifications of the computer I have been using to develop AudioGL
Make/Model: Lenovo X61 Tablet

Processor:    Intel Core 2 Duo 1.8ghz
Graphics:      Intel X3100 (low quality integrated graphics card)
Audio:           M-Audio Fasttrack Pro & ASIO4All
Display:        1024×768 (Laptop) – 1280×1024 (External)
As you can see, AudioGL does not require a high performance computer.  If your system specifications are close to or higher than mine, AudioGL should run just fine for you.
Although the interface is rendered in 3D, it does not consume any more resources than a typical 2D interface. Furthermore, the graphical quality of the interface can be raised or lowered, depending upon your preferences.
The synthesizer is designed towards low CPU usage without compromising sound quality.  To provide both, the instruments you create in AudioGL will only consume CPU when they are playing.  This makes it possible to create a large composition on an underpowered laptop, provided that you only have so many instruments playing at one point in time.
ScoreCleaner is a live scoring tool that notates your music automatically. Just plug in your MIDI instrument/keyboard, play and let ScoreCleaner render.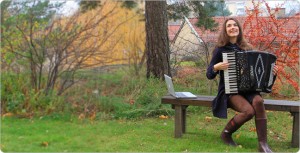 ScoreCleaner changes the paradigm of notation softwares. Where earlier formats forced users to have a large pre knowledge of a piece of music to be able to notate properly ScoreCleaner allows the user so simply plug a MIDI based keyboard into their computer and play to render a notation. ScoreCleaner will automatically detect time signature, key, clef, tempo, note values etc. and simply notate the playing it receives. Virtually live. The user doesn't have to rely on click tracks or other guiding tools in order for the software to understand the music and interpret it for notation.
"ScoreCleaner is unique in that will allow a user to play freely and end up seconds later with a useful score for a wide variety of musical styles" says Sven Ahlback. "ScoreCleaner will even notate non-metrical music, composite time signatures, rubato, something that has been quite unthinkable in decades past".
Because ScoreCleaner notates on the fly rather than being designed for manually feeding the software with note values it becomes open to a number of uses.
ScoreCleaner can offer scoring and editing possibilities to become the main notation format for a user or it can work as a complement to other notation and sequencer formats. ScoreCleaner exports its notations and its interpretations to MIDI as well as MusicXML.
In Sven Ahlbacks words,
"ScoreCleaner is a wonderful teaching tool for students and teachers alike. It saves huge amounts of time and offers high accuracy compared to what has been available so far. But we also want to underline that ScoreCleaner is a great tool for any musician or composer who needs to quickly convey a piece of music to other musicians in the universal musical language of notes."
For access to a time limited trial version of ScoreCleaner please visit